Top 10 Best Couples in Anime
Top 10 Best Couples in Anime
It's time for another updated Top 10 list!
This time, we are going back to our favorite bittersweet love stories and the touching couples that come with them. Anime couples overcome hardships together, stick through thick and thin and fight all the odds. But there are simply too many amazing relationships out there for us to put into just one Top 10 list. That is why we want to give you ten more memorable anime couples today, for all of you that are looking for some butterflies in their stomachs.
We have decided to not include any couples we have already mentioned in the first list, so head on over there now to see our first line-up. This being said, enjoy our updated version of Top 10 Anime Couples!
10. Asuna and Kirito from Sword Art Online
Episodes: 25
Aired: July 2012 – December 2012
First up on our list is a couple that is not afraid to beat some enemies. We are talking about Asuna and Kirito from Sword Art Online, of course.
Sword Art Online tells the story of Kirito, short for Kazuto Kirigaya, who gets a completely new gaming experience with the launch of a massive multiplayer online game called – you guessed it – Sword Art Online. Unfortunately, Kirito soon has to realize that he cannot log off and the only way for him to escape virtual reality is to beat the game. Time to get to work, Kirito!
Asuna and Kirito meet early on in Sword Art Online and at first don't have anything on their minds other than getting out of the game. But you never know where love falls, as they say, and soon enough the two gamers start developing feelings for each other. Asuna and Kirito are the first couple on our list since they show a dynamic relationship that revolves around respecting and protecting each other while leaving enough space for both of them to do their own thing. Our first recommendation!
---
9. Mei and Yamato from Sukitte Ii na yo. (Say "I Love You".)
Episodes: 13
Aired: October 2012 – December 2012
Next up is a couple that all fans of romance stories should be familiar with: shy Mei and good-looking Yamato from Sukitte Ii na yo.
Mei Tachibana was back-stabbed by her own friends and from that day on she distanced herself from everyone in order to never get hurt again. Then again, she is still a normal high school girl and also thinks of friendship and the experiences of first love. That's exactly where popular Yamato steps in. He turns Mei's world upside down and soon enough an extraordinary love story begins. Will Mei be able to change?
Even though Mei and Yamato have a rather innocent high school love story, some aspects of their relationship are also relevant for more mature couples. Their relationship shows the hardships of being together and how difficult it is to change for someone while also staying true to yourself. Sukitte Ii na yo makes you think about how hard it is to say the words "I love you" and that is why Mei and Yamato are the second recommendations on our list.
---
8. Usami and Misaki from Junjou Romantica
Episodes: 12
Aired: April 2008 – June 2008
Moving back in time, now it is time for one of our favorite couples of the year 2008.
Junjou Romantica shows three couples in their everyday struggles of making their relationships work. Stars of the show are Usami and Misaki who come together after a chain of fateful events. Misaki's life is occupied by his entrance exam preparations and he just wants to find someone to help him with his studies. Author and best friend of his older brother Usami is supposed to offer him just that, but he is also about to teach Misaki something the boy definitely didn't see coming.
Misaki's feelings are just too innocent to not include on this list. The young boy has had no experience in love whatsoever and realizing that he's developing feelings for a guy definitely takes him on an emotional rollercoaster. Misaki and Usami are an odd pair that couldn't be more different from each other, but that is exactly the charm of this couple. All fans of romance anime should definitely give Junjou Romantica a try!
---
7. Erika and Kyouya from Ookami Shoujo to Kuro Ouji (Wolf Girl and Black Prince)
Episodes: 12
Aired: October 2014 – December 2014
Wolf Girl and Black prince has hit Japanese television in fall 2014 and pretty soon made it to the ranks of must-watch Shoujo/Romance shows. Keep reading to find out why!
Erika Shinohara just wants to fit in, but unfortunately, she has no romantic experiences to show off in front of her friends. That's why she decides to simply take a picture of a good-looking stranger and pretend he's her boyfriend. Turns out that the "stranger" is in fact high school superstar Kyouya and now Erika has to ask him to help keep up her lie. Kyouya agrees – but only if Erika, in turn, becomes his pet dog. Get ready for a love story of a different kind.
This relationship definitely has its ups and downs. Kyouya might be good-looking, but he enjoys torturing Erika and having her as his personal pet. Erika is kind-hearted, but she cares too much about what others think of her. The two of them make an unlikely team, but that is exactly why we love their relationship so much. Erika and Kyouya show that sometimes others can bring out the best in you, so go and watch their story if we've caught your interest.
---
6. Senjougahara and Araragi from Bakemonogatari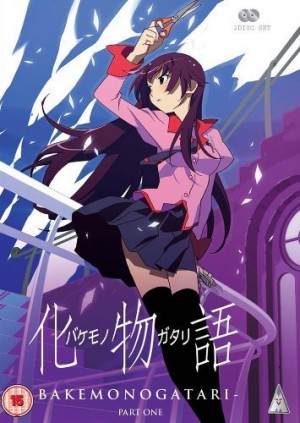 Episodes: 15
Aired: July 2009 – June 2010
The Monogatari series has a big fanbase for a couple of reasons – the relationship of Senjougahara and Araragi is definitely one of them.
Araragi wants to have a normal high school life, but there are a couple of obstacles standing in his way. First of all, there is the fact that he is the survivor of a vampire attack. Then again, the boy also has some superhuman abilities. Lastly, he runs across Senjougahara, a girl who is seemingly weightless, and after this fateful encounter, nothing is like it was before.
The story of Bakemonogatari is already entertaining enough, but it's really the characters that bring this show to life. Both Senjougahara and Araragi are multi-layered characters with different traits and backstories and that's exactly what makes their relationship so interesting. Araragi might have a savior complex and tries to help Senjougahara whenever he can, but there are also a lot of things that she has to teach Araragi. The two weirdos from Bakemonogatari are our sixth recommendation.
5. Yamato and Takeo from Ore Monogatari!! (My Love Story)
Episodes: 24
Aired: April 2015 – September 2015
Part of the reason why we are giving you an updated list is the fact that there are so many new and noteworthy couples coming out every season. Yamato and Takeo from Ore Monogatari!! are a great example.
We've already covered a lot of high school love stories on this list, but we can definitely say that this one is unique. Takeo is a giant with a big heart and despite his kind nature, people choose to avoid him because of his intimidating looks. Too bad that Takeo had to fall in love with beautiful Yamato who, to top everything off, might, in fact, have feelings for Takeo's best friend Makoto. Who will Yamato choose and could this be the beginning of Takeo's own love story?
Our hero Takeo is just too charming to dislike. I mean, who wouldn't root for the big man with a heart of gold after seeing him try so hard to convey his feelings to Yamato? There is no ill intent inside of him and it's heartbreaking and entertaining at the same time to see him fight for his love. Yamato and Takeo give all of us hope for our own romantic endeavors and that is why we included them on this list.
---
4. Risa and Otani from Lovely★Complex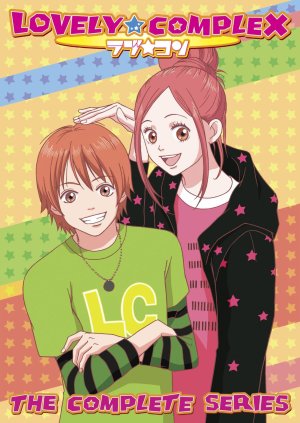 Episodes: 24
Aired: April 2007 – September 2007
It's time for one of the most well-known anime couples out there that somehow didn't make an appearance on our first list: Risa and Otani from Lovely★Complex!
After Ore Monogatari!!, this is another anime that shows an unlikely relationship that beats the odds. In this case, we have an extraordinary tall girl develop feelings for an extraordinary short guy. Sounds like a great source for funny scenes? You're right, the story of Risa and Otani will warm your heart as much as it will make you laugh.
This relationship is as cute as it is funny. It plays around with the common misconception that guys should always be taller than their girlfriends and shows that this doesn't have to be the case. More importantly, Lovely★Complex proves that couples don't have to be lovey-dovey all the time, but can joke around and make fun of each other like best friends. A definite must-watch!
---
3. Shirayuki and Zen from Akagami no Shirayuki-hime (Snow White with the Red Hair)
Episodes: 12
Aired: July 2015 – September 2015
We've already reached our Top 3 and no other show would be more suitable to start with than recent hit Snow White with the Red Hair.
This anime introduces you to a fantastic world filled with kingdoms, princes and great adventures. Shirayuki is a cheerful girl who wants nothing more in life than just to help out as an apothecary at her local herbal shop. But she needs to flee the country when Prince Raji grows a little bit too fond of the innocent girl. On her adventure, Shirayuki meets Zen, the prince of the neighboring country, and the two of them team up to fight for what they believe in.
This love story has everything that any girl would dream of – a beautiful setting, a charming prince, a girl in need. But what makes this story so special is the fact that Shirayuki is a passionate girl who stands eye-to-eye with Zen and is not afraid to speak her mind. Zen and Shirayuki meet each other at the right point in their lives and what started as a good friendship soon grows into something more. What a beautiful love story!
---
2. Usagi and Mamoru from Bishoujo Senshi Sailor Moon (Sailor Moon)
Episodes: 46
Aired: March 1992 – February 1993
An oldie but still a goldie – the story of power girl Sailor Moon never goes out of age.
For all of you that don't know, Sailor Moon tells the story of 14-year-old girl Tsukino Usagi. She is bad at studying, likes to complain and cannot seem to figure her life out, but in the end, she has a big heart. That is exactly what she needs when she encounters a mysterious black cat that gives her the power to turn into Sailor Moon, a fighter who has to protect the world against the Dark Kingdom.
Let's jump right into the relationship of this anime; what makes Usagi and Mamoru such a noticeable couple in our eyes? Of course, there is a little bit of nostalgia attached to the two of them (which little girl didn't dream of marrying Tuxedo Mask one day?). But more than that, the anime makes sure to show us that Usagi and Mamoru are simply made for each other and there is no one else out there either of them could be with. The couple from Sailor Moon is one of the most popular romances in anime history, that's why we simply had to include them.
---
1. Naruto and Hinata from Naruto
Episodes: 220
Aired: October 2002 – February 2007
Last, but definitely not least, we have a final couple on this list that makes us believe that anything is possible in love.
Naruto has the demon of the nine-tailed fox trapped inside of him while Hinata comes from a respectable household of powerful fighters. Naruto is outgoing and Hinata is shy. When the boy gives his last to win in a fight, Hinata would rather give up and throw in the towel. How could the two of them ever become a couple?
True, Naruto and Hinata might not have been the perfect couple out there at the beginning of the show; however, they grow up, become stronger and overcome their weaknesses. In each other, they can find something that each one of them is lacking and that is what makes their relationship so memorable. Only a few would have believed in the deep devotion of shy Hinata, but she proved many of you wrong, didn't she? Hinata and Naruto deserve to be the final couple on this list.
---
Final Thoughts
This concludes the updated version of our favorite anime couples. There are many more couples that we wanted to include on this list and even more anime duos that we want to call a couple, but who were never officially dating (but a fan can dream, right?). See this list as a starting point for some of the most memorable relationships in the anime universe. Of course, there are many more out there and we are eager to hear your recommendations.